If you remember when horror was dark and supernatural, free of pop culture nods and knowing smirks to the reader, with twist endings that absolutely eviscerated your imagination, then
Shadows & Teeth Volume 3
is sure to be right up your alley - your dark, foggy, cobblestone, garbage-strewn alley.
Guy N. Smith's
Cannibal House
was a great twist on both haunted houses and cannibalistic slashers, starting and ending with creepy discoveries.
Nathan Robinson's
Tree Huggers
was a fun story that put a gory new spin on the concept of horror in the woods, complete with a brutally cold ending.
No Thanks
, by Antonio Simon Jr., was probably my favorite story in the collection. The telling of it was fantastic, the pacing perfect, the black humor on point, and the very concept of "no thanks" simple, yet brilliant.
R. Perez de Pereda's
Bernadette
was an unexpected pleasure, a well-told story of a medieval priest, a deal with the devil, and a young woman who refuses to stay dead.
David Owain Hughes'
Picture Not So Perfect
was a slow-burning sort of tale, one with a tragically human element, an interesting twist of expectations, and a monstrous finale that has more than a few surprises.
Cruciform
, by S.J. Deighan, was another favorite - a story of occult secrets, dark rituals, and the unfortunate consequences of summoning a demon to do your bidding.
A solid collection with only a few stories that didn't really work for me,
Shadows & Teeth Volume 3
is a perfect read for fans of slasher flicks, splatterpunk, and Twilight Zone endings.
ebook
Published June 15th 2017 by Guy N. Smith
αωαωαωαωαωαωαω
About the Author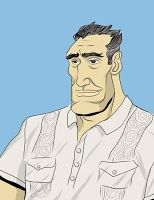 Born in Cuba in 1941,
Ramiro Perez de Pereda
has seen it all. Growing up in a time when then-democratic Cuba was experiencing unprecedented foreign investment, he was exposed to the U.S. pop culture items of the day. Among them: pulp fiction magazines, which young Ramiro avidly read and collected. Far and away, his favorites were the Conan the Barbarian stories by Robert E. Howard. Ramiro, now retired from the corporate life, is a grandfather of five. He devotes himself to his family, his writing, and the occasional pen-and-ink sketch. He writes poetry and short fiction under the name R. Perez de Pereda. He serves Darkwater Syndicate as its Head Acquisitions Editor—he heads the department, he does not collect heads, which is a point he has grown quite fond of making. Indeed, it's one reason he likes his job so much.
αωαωαωαωαωαωαω
About the Book
Date Published: June 15, 2017
Publisher: Darkwater Syndicate, Inc.
Out of the shadows and meaner than ever, volume three of this award-winning horror series packs international star power. Featuring ten brand-new stories by the legendary Guy N. Smith, the prolific Adam Millard, master of horror Nicholas Paschall, and others, this collection is certain to keep you up at night. Take care as you reach into these dark places, for the things here bite, and you may withdraw a hand short of a few fingers.