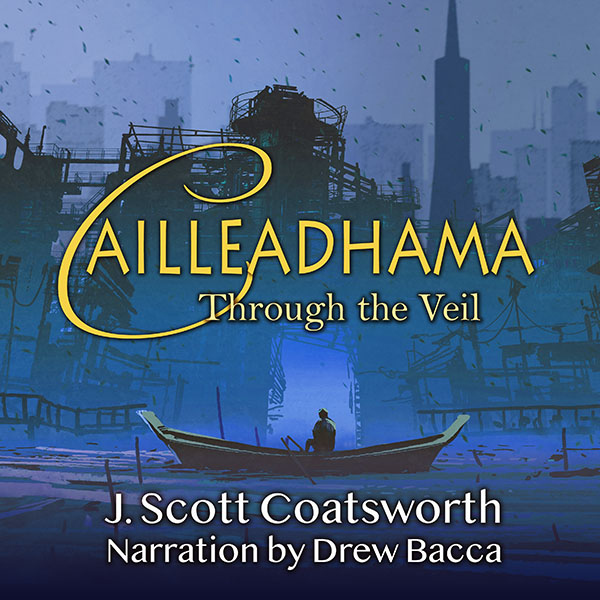 J. Scott Coatsworth's MM "elf-meets-trans-man in post-climate-change San Francisco" book Cailleadhama is now out in audiobook format. And there's a giveaway!
Colton is a trans man living in a climate-changed world. He plies the canals that used to be city streets, earning a living taking tourists on illicit journeys through San Francisco's flooded edges beneath the imposing bulk of the Wall.
Tris is an elf who comes through the veil to the City by the Bay - the Caille - on a coming of age pilgrimage called the Cailleadhama. He is searching for his brother Laris, who went missing after crossing through the Caille years before.
The two men find they have common cause, and together they set off to find Laris in a world transformed by the twin forces of greed and climate change. And in the end, they find out more than they ever expected, both about the warming world and their own selves.
---
Giveaway
Scott is giving away your choice of a $20 Amazon Gift Certificate or a signed first edition of the Liminal Sky: Ariadne Cycle Trilogy (USA only). Enter via Rafflecopter:
Direct Link: http://www.rafflecopter.com/rafl/display/b60e8d47179/?
---
Excerpt
The Night Market was controlled by the Red Badge, a technophile gang that operated in black market trade. The guard was a handsome young guy—maybe twenty with gorgeous yellow eyes—probably a black market gene-mod. Colton had never seen him before. His beautiful physique was apparent under his tight-fitting uniform, and Colton willingly submitted to a pat down, hoping the sock stuffed in his pants would pass inspection.
The man found the T-Whip tucked into his chest-wrap and pulled it out.
"It's nonlethal," Colton said.
The guard turned it on, sending a crackling bolt of lightning into the air, and then turned it back off, satisfied. No lethal weapons were allowed in the Night Market. Violations could get you killed.
The guard waved Colton along, and he climbed the metal ladder up to the entrance to the top floor of the Ferry Building, via a hole in the wall that had been cut out of the side. From the top, he looked down once more at the gorgeous guy with a sigh.
The upper floors of the building had been home to capital and finance companies for the rich of the City before the flooding. Now they were a nest of black market shops, a veritable warren of little holes in the wall selling illicit items, including all kinds of tech, from simple data-bands all the way up to police-grade weapons—disarmed, of course. Not much had changed, really.
There were also pleasure houses.
Colton headed for the Tower, where the Pharmacist had set up her own lab. She was able to craft almost anything the citizens of the Canal District needed, which usually meant recreational drugs. But she also handled special requests, like Colton's.
The Pharmacist was a capricious woman. Sometimes money was enough for payment. Sometimes she demanded something more.
Colton looked down at the waters below. The ground floor, once a produce market, was now full of cold, dark water. He approached the guards at the entrance to the Tower, holding up his empty vial.
"I need some more T," he said. "I'm willing to pay."
This guard was much older than the last one and uglier too, with a broken nose and a chin full of gray stubble. The man scanned Colton's data-band. "I'll call it up," he said, putting his index finger to his ear. "The Pharmacist has a visitor."
Colton shifted from one foot to the other, nervously.
"Name?"
"Colton Davis."
After a moment, he waved Colton through the open door. "She's waiting for you. Good luck."
Colton prayed that she was in a good mood tonight.
He climbed the steps that wound around the inside of the Tower, passing the clock works on the way up. The Red Badge kept the clock in good condition and running, as a sign to the rest of the District who was in control there. There were two more guards waiting for him at the top of the stair. As Colton approached, one of them opened the door and let him into the room beyond.
The Pharmacist's lab filled the entire floor. There were banks of tables, pipes and tubes, microscopes, paper filing cabinets stuffed with odds and ends, and computer screens everywhere. From what he understood, she could make anything there that the University on the other side of the Wall could put together. Even if her labs did resemble a mad scientist's lair.
"Colton Davis."
"Yes, ma'am," Colton said. Hearing the Pharmacist speak his name sent shivers up his spine.
She was standing before a bank of windows, looking out over the City, her back to him. It was getting dark outside and the lights of the Financial District were winking on one by one. By contrast, the buildings trapped in the drowned Canal District were mostly dark, save for a small spark here or there where someone had lit a fire or used a small generator.
She turned to face him. He'd been here before, and it still shocked him how young she looked. Red, tangled curls tumbled down past her shoulders. Her face was pale, almost white, and round, and the bridge of her nose was traced with freckles. Her piercing green eyes fixed him like a bug.
"So you need some more T?"
Colton nodded. "I don't have much money, but I'll pay what I can."
She shook her head. "That won't be necessary." She turned to a small cabinet and pulled out three vials.
"I don't think I can afford all that," Colton said. "Maybe just one."
She smiled. There was something unworldly about her, ethereal. It was as if he could see right through her to the city behind. "I said that won't be necessary." She opened his palm and set the three vials there, closing his fingers around them.
Colton looked down at the vials in his hand, dumbfounded. "Thank you, ma'am," he managed, starting to back toward the door. He couldn't believe his good luck, and he didn't want to press it.
"Don't go so soon," she said, taking him by the arm. She gave him a cool smile as she led him over to the windows. "I said money wouldn't be necessary. I didn't say they would be free."
---
Author Bio
Scott lives with his husband Mark in a yellow bungalow in Sacramento. He was indoctrinated into fantasy and sci fi by his mother at the tender age of nine. He devoured her library, but as he grew up, he wondered where all the people like him were.
He decided that if there weren't queer characters in his favorite genres, he would remake them to his own ends.
A Rainbow Award winning author, he runs Queer Sci Fi, QueeRomance Ink, and Other Worlds Ink with Mark, sites that celebrate fiction reflecting queer reality, and is a full member of the Science Fiction and Fantasy Writers of America (SFWA).
Author Website: https://www.jscottcoatsworth.com
Author Facebook (Personal): https://www.facebook.com/jscottcoatsworth
Author Facebook (Author Page): https://www.facebook.com/jscottcoatsworthauthor/
Author Twitter: https://www.jscottcoatsworth.com/jscoatsworth
Author Instagram: https://www.instagram.com/jscottcoatsworth/
Author Goodreads: https://www.goodreads.com/author/show/8392709.J_Scott_Coatsworth
Author QueeRomance Ink: https://www.queeromanceink.com/mbm-book-author/j-scott-coatsworth/
Author Liminal Fiction (LimFic.com): https://www.limfic.com/mbm-book-author/j-scott-coatsworth/
Author Amazon: https://www.amazon.com/J.-Scott-Coatsworth/e/B011AFO4OQ