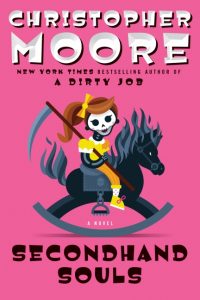 Falling somewhere between offbeat/quirky and silly/juvenile,
Secondhand Souls
was actually a much more enjoyable read than I anticipated. Clearly I've missed something by diving into the second book of a series, but
Christopher Moore
recaps previous events well (and often . . . a tad too often), so I don't really feel like I've missed anything.
What you have here is a world where people are 'chosen' to become Grim Reapers - yes, plural Grim Reapers, because it really is too big a job for one person. Charlie was a recipient of the Big Book of the Dead last around, had the recommended kitty calendar, carried around a #2 pencil, and ultimately sacrificed himself to stop a Celtic banshee from destroying San Francisco. Or, at least that's what the world believes. In reality, his Buddist nun girlfriend saved him from that fate, cobbling together a new body out of lunch meat and animal parts - a 14 inch body, with a 10 inch penis. Yup, and we're just getting started. There's also a seven-year-old daughter, who used to be princess of the Underworld, but whose powers have deserted her along with the hellhounds who protected her.
Suffice to say, since his replacement couldn't be bothered to actually collect any of the souls that came so conveniently penciled in on his kitty calendar, it falls to Charlie to save the world. Fortunately, he's not alone - aiding him in this insanity are the aforementioned horny Buddist nun and profanity-charged daughter, along with a tiny crocodile wizard, a gang of Squirrel People, a retired cop, a bridge painter, the weirdly eccentric Emperor of San Francisco, and a Goth girl turned inappropriate suicide hotline counselor . . . whose best line for getting a guy not to jump is to offer him a blowjob.
The plot itself is pretty basic, with your requisite dark powers trying to take over the world, but it's really secondary to the characters and the comedy. To be honest, I think we were halfway through the story before the villain even stepped onto the stage. It's a book that bordered on tedious or repetitive at times, but the frantic swing between satire and slapsitck, not to mention irreverence and (political) incorrectness, keeps you on your toes.
Secondhand Souls
is a book that certainly owes a debt to Pratchett and Gaiman, but which seems tailored more for a
Hangover
or
Neighbors
generation. Funny, funny stuff, with scenes that will stick with you long after you forget what it was really about.
αωαωαωαωαωαωαω
About the Author
Christopher Moore
is the author of fourteen previous novels, including
Lamb, The Stupidest Angel, Fool, Sacré Bleu, A Dirty Job,
and
The Serpent of Venice
.
Find out more about Christopher at his
website
, connect with him on
Facebook
, and follow him on
Twitter
.
αωαωαωαωαωαωαω
About the Book

Secondhand Souls by Christopher Moore
• Paperback:
368 pages
• Publisher:
William Morrow Paperbacks; Reprint edition (May 10, 2016)
In San Francisco, the souls of the dead are mysteriously disappearing—and you know that can't be good—in this delightfully weird and funny sequel to the
New York Times
bestseller
A Dirty Job.
It seems like only yesterday that Charlie Asher took on a very dirty job—collecting souls and keeping the Forces of Darkness at bay. The new gig came with the
Big Book of the Dead
and a host of other oddities: creatures under the streets, an evil trinity of ravenlike Celtic death goddesses, and one very bad Underworld dude attempting to conquer humanity. Along with a cohort of other oddballs, Charlie faced off against these denizens of darkness—and met his own end. But thanks to Audrey, his Buddhist-nun boo, his soul is still alive . . . inside a fourteen-inch-high body made from lunchmeat and spare animal parts. Waiting for Audrey to find him a suitable new body to play host, Charlie has squirreled himself away from everyone, including his adorable seven-year-old daughter, Sophie, who enjoys dressing up like a princess, playing with her glitter ponies, and—being the Luminatus—spouting off about her power over the Underworld and her dominion over Death.
Just when Charlie and company thought the world was safe, some
really
freaky stuff hits San Francisco. People are dying, but their souls are not being collected. Someone—or something—is stealing them and no one knows where they are going, or why, but it has something to do with that big orange bridge. Then there's the Taser-wielding banshee keening about doom who's suddenly appeared while Sophie's guardian hellhounds, Alvin and Mohammed, have mysteriously vanished.
Charlie is just as flummoxed as everyone else. To get to the bottom of this abomination, he and a motley crew of heroes will band together: the seven-foot-tall, two-hundred-and-seventy-five-pounds-of-lean-heartache Death Merchant Minty Fresh; the retired policeman-turned-bookseller Alphonse Rivera; the lunatic Emperor of San Francisco and his dogs, Bummer and Lazarus; Mike Sullivan, a bridge painter in love with a ghost; a gentle French-speaking janitor named Jean-Pierre Baptiste; and former Goth girl Lily
Darquewillow Elventhing
Severo, now a part-time suicide hotline counselor.
With little Sophie babbling about the coming battle for the very soul of humankind, time is definitely not on their side. . . .
Irresistibly zany, rich in humor, heart, and spirit,
Secondhand Souls
is vintage Christopher Moore.

Purchase Links