Stacking The Shelves
and
Mailbox Monday
are a pair of weekly memes that are about sharing the books that came your way over the past week, and which you've added to your shelves - whether they be physical or virtual, borrowed or bought, or for pleasure or review.
Just the one new review arrival this week, but it's an exciting one - a paperback ARC of
Brian Staveley's
second installment in his
Chronicle of the Unhewn Throne
,
The Providence of Fire
. This will likely be the next big, thick tome I relax with, taking the opportunity to lose myself in his world once again.
On the new purchases front, just one new title there as well, but it's an exciting one.
Julie E. Czerneda's
Species Imperative
omnibus edition is out, complete with the dedication to her loyal biogeeks . . . including yours truly!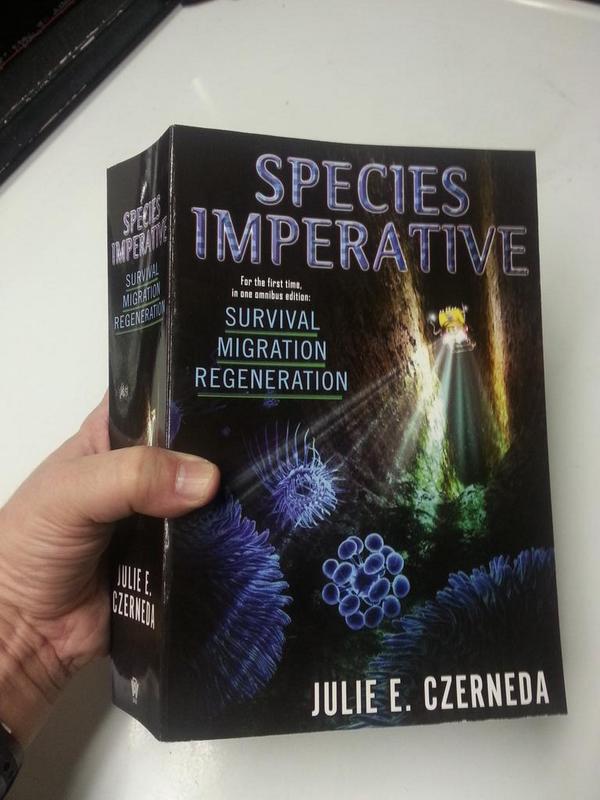 αωαωαωαωαωαωαω
It's Monday! What Are You Reading?
is another weekly meme, this time focused on what books are spending the most time in your hands and in your head, as opposed to what's been added to your shelf.
• Gideon Smith and the Brass Dragon
by David Barnett
The first Gideon Smith tale was a Victoriana / steampunk mash-up, an old-fashioned horror story, a penny dreadful romp, and an adventure worthy of Indiana Jones. Can't wait for the sequel!
• Consumed: A Novel by David Cronenberg
Probably my most anticipated read of the Fall, I'm anxious to dig in and see if he can capture his screen magic on the page. Early reviews are mixed, but I like what I'm hearing.
What's topping your shelves this week?