Earlier this week, Upworthy hosted a video of Creative Force of Nature Joss Whedon accepting an Equality Now award in which he spoke to great length on why he writes strong women (
and why he's sick of hearing the question
).
Click here if you've not seen it
. While he covers the topic pretty thoroughly, I also get comments on my women characters and thought I'd add my thoughts on the matter.
Whedon says some great, inspirational things, and makes at least one comment that now has me thinking about the issue in a whole new way -that the men who write these characters perhaps find it easier express sides of themselves speaking through a female protagonist they might be uncomfortable otherwise addressing. I think he's definitely on to something there.
For me, I'm not sure it's really about writing "strong" female character as it is about writing interesting, multi-faceted characters, and then tending toward women because I find women, not being one myself, intriguing.
Men writing women characters can be a tricky thing. There are many classic pitfalls men tend to fall into when they tackle this, and if I'm completely truthful, I'm sure I've stumbled into one or two of these pits in my stories from time to time.
For instance, make the character (
physically
) strong, ditzy, or dramatic, and it's easy to go to extremes with the portrayals. If you make her too feminine, you create one sort of deeply flawed character; ignore her gender altogether (
Ripley in the first Alien movie was originally written as male and cast as a woman during production
) and you miss a huge opportunity. It's a delicate tightrope to walk. (I imagine there are similar problems when women authors writing male characters, too, but I can' speak to that.)
I remember the most flattering comment I've received on this topic to date. It came during a blog radio interview with
Deadspeak Radio
host Renee Graham asked me
(referencing Loretta and Maxine in Haunting Obsession
), essentially, "How did you figure us out? It's scary how far you've gotten into our heads." Caught off guard, I mumbled something inane about how I'd have her repeat that to Mrs. RJ.
I've told the story many time that Blue Shaefer from
Haunting Blue
and its sequel
Virtual Blue
was born out of taking a Hardy Boys' inspired tale of two best friends getting into trouble and changing the gender of one to add sexual tension. From that moment on, smart-aleck streetwise punk girl Blue Shaefer took over the story, including the title.
Even then I was aware of how strong--and we're talking physically aggressive--I wanted to make Blue, but I also knew of the classic pitfalls that constant acting out could lead to. Plus, no one is a nonstop flippant smartass, and no one wants to read about one for an entire novel
People are, deep down, are a mass of contradictions. I imagine this will surprise none of you, but writers and other artists are introverts and the more time we spend acting out in public the longer we need to lock ourselves away afterwards.
So while Blue acted tough to impress the people around her, she also expressed the doubts that raced through her head to herself and later to the one person she learns to trust. While she bragged of being a loner, she drew closer to her boyfriend Chip.
And so after Blue came
Haunting Obsession
with Maxine Marie, the sexy ghostly movie star loved by millions whose greatest fear was about being abandoned. Loretta Stephens, the modern career woman who prides herself on not letting people treat her poorly, who nevertheless chooses to fight for the man she loves even after his betrayal. And the enigmatic Rebecca Burton stoic and logical, but with a sly sense of humor and who can show quite a temper when crossed.
In a related but different conversation, my author peer and friend John Allen discussed authors writing about racial and ethnic characters different from themselves. (
Although I can brag to an array of dynamic women characters, I sometimes blush as how "whitewashed" my cast of characters appear up to now
) John observed that ultimately, people all want the same thing. We have bills to pay, we want to be successful; we want to be liked. We want to get through life and have our basic needs addressed. Write to those needs first, he said, and the rest will fall into place.
Perhaps that's the answer: Write dynamic, realistic characters, and the rest falls into place. (
I don't analyze it--it just happens, honest.
) I'll conclude reflecting on Joss Whedon's parting words during his speech, in which he laments that a question about strong women characters even has to be asked, and where he looks forward to a time when no one even wonders about it anymore. I couldn't agree more.
αωαωαωαωαωαωαω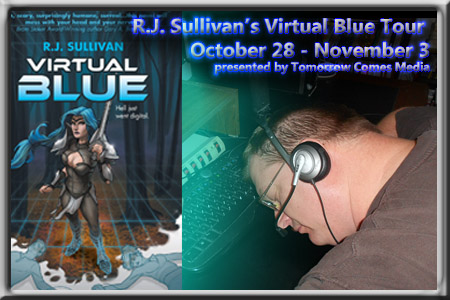 αωαωαωαωαωαωαω
R. J. Sullivan's
novel
Haunting Blue
is an edgy paranormal thriller and the first book of the adventures of punk girl Fiona "Blue" Shaefer and her boyfriend Chip Farren. Seventh Star Press released
Haunting Obsession
a Rebecca Burton Novella in 2012 and
Virtual Blue
, the second book in Fiona's tale, in 2013. Seventh Star will release a new edition of Haunting Blue in early 2014. R. J.'s short stories have been featured in such acclaimed collections as
Dark Faith Invocations
by Apex Books and
Vampires Don't Sparkle
. His newest project is the
Red Lotus
series of science fiction novelettes for readers of all ages.
R.J. resides with his family in Heartland Crossing, Indiana. Check in regularly to learn the latest about the projects of R. J. Sullivan.
αωαωαωαωαωαωαω
Virtual Blue
by R.J. Sullivan
Did you ever wish you could escape to a virtual world? What if you could...but then couldn't get out?
Two years after her deadly clash with a vengeful ghost, Fiona "Blue" Shaefer still can't shake off the trauma of that night. Moving to New York with her father didn't help. Neither did absorbing herself in her college classes. Not even her poetry provided the solace it once did. She convinces herself that ending her relationship with Eugene "Chip" Farren, her long-distance boyfriend and final tie to the horrors of that night, might bring the closure she needs. Blue travels to Bloomington to break the news to Chip in person, but her timing couldn't be any worse.
The Sisters of Baalina, vengeful cultists who practice a new form of "techno-magic," have targeted Chip's multi-player videogame as the perfect environment to cast a dangerous spell to free a demoness from the very pits of hell. In the process, their plan may trap Blue in a prison of the mind with no locks, no bars, and no escape.
αωαωαωαωαωαωαω
Tour Schedule and Activities
October 28 Jess Resides Here Contest
October 28 Jorie Loves a Story Review
October 28 Come Selahway With Me Guest Post
October 29 Sheila Deeth Blog Character Interview w/ Blue
October 30 Armand Rosamilia Guest Post
October 30 A Haunted Head Special Post Tba
October 30 Deal Sharing Aunt Review
October 30 Word to Dreams Promo Spotlight
October 31 John F. Allen Ivory Blaque Interview of RJ!
October 31 Spellbindings Character Post with Rebecca Burton
October 31 Library Girl Reads and Reviews Character Interview of Rebecca Burton
November 1 Bee's Knees Reviews Review
November 1 Beauty in Ruins Guest Post
November 2 Azure Dwarf Guest Post
November 3 Angela Meadon Review