Initially, reading
The God Killers
reminded me very much of my first encounter with
Anita Blake
.
John F. Allen
appeared to have crafted a standard urban fantasy tale, immersed in the supernatural, and spiced with elements of paranormal romance. Even the narrative structure and pacing of the first few chapters reminded me of Laurell K. Hamilton's work.
That's not a bad thing, and not at all a knock against either author. It's simply an acknowledgement of how the book initially struck me.
I say 'initially' because as Allen settles into the story, becoming more comfortable with the lovely Ivory Blaque in the process, he begins layering in some really exciting story elements that definitely kick the story up a few notches. Before long we have a great story behind the God Killers themselves, a pair of antique pistols that Ivory is hired to recover for their rightful owner - or owners, to be precise, since she's hired twice for the same job, but two very different clients!
In addition, we have a well developed hierarchy of the supernatural, complete with warring vampire clans and close-knit werewolf packs, and an uneasy alliance with humanity that's as imaginative as it is simple. Where Allen really won me over, though, is with a back story that brings it all together. His interpretation of mythology is fascinating, and I really liked the way he managed to weave centuries of faith into one crazy roller coaster ride of warring gods. He also gives us a peek behind several historical events, with one tragedy in particular revealed as a cover-up for vampire activity, which helps to put a veneer of plausibility on the tale.
All of that would be wasted, however, were it not for the ability of Ivory to carry a story. Strong, confident, and appropriately flawed, she's an entirely human protagonist in an otherwise inhuman world. She has a flair for goading people, loves retail therapy, and isn't shy about her loves or her lusts. While it's really become something of a cliché within the genre, her reluctant entanglement in a vampire/werewolf love triangle actually works because of how well she's been established as a character, and how willing she is to defend her honor and her right to choose.
There are a lot of questions left unanswered, but that's to be expected from the first book in the series. While there is something of a cliffhanger to the last chapter, it's a development that comes after the main story is resolved, making it more of a tease. Overall,
The God Killers
is a fun story, with great imagination, and a heroine you want to read more about. If you're a fan of the genre, then you'll definitely enjoy this.
αωαωαωαωαωαωαω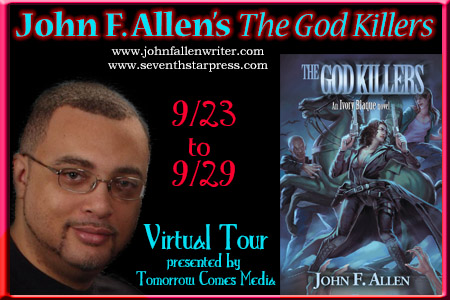 αωαωαωαωαωαωαω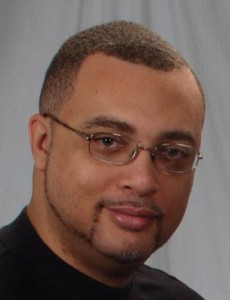 About John F. Allen:
John F. Allen is an American writer born in Indianapolis, IN. John began writing stories as early as the second grade and pursued all forms of writing at some point, throughout his career. John studied Liberal Arts at IUPUI with a focus in Creative Writing, received an honorable discharge from the United States Air Force and is a current member of the American Legion. John's debut novel,
The God Killers
was released in 2013 with Seventh Star Press.
John currently resides in Indianapolis, Indiana with his wife, son and daughter.
Website/Blog
-
www.johnfallenwriter.com
Facebook Author's Page
-
https://www.facebook.com/#!/johnfallenwriter
Twitter
-
https://twitter.com/johnfallen1970
Facebook Fan Club Page
-
https://www.facebook.com/#!/groups/650402134970441/
αωαωαωαωαωαωαω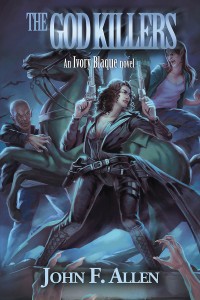 Book Synopsis:
In
The God Killers
, the first book of
The God Killers Legacy
, former professional art thief Ivory Blaque is hired to procure a pair of antique pistols and gets much more than she bargained for when several attempts are made on her life.
Her client turns out to be a shadowy government agent who reveals that she is descended from a race of immortals, and that the pistols are linked to her unique heritage and the special psychic gifts she possesses. He uses the memory of her father to guilt her into working for him.
Ivory eventually gives in to his request, and in return, he presents her with her father's journal, which was written in an unbreakable code. Bishop believes that she is the only one capable of breaking the code and unlocking the plans of the vampire hierarchy. But when the city's top vampire is a sexy incubus with an attraction for her and she's assigned a hot new lycan enforcer to protect her, she finds herself caught between two sets of rock hard abs.
To regain her autonomy, clear her name, unlock the secrets of her past, and protect the lives of those closest to her, Ivory must play along with the forces trying to manipulate her. Ivory's life is rapidly spiraling out of control and headed for an explosive conclusion which she just might not survive.
αωαωαωαωαωαωαω
This review copy was provided by Tomorrow Comes Media in exchange for a fair and honest review.